Profiles
The publishing tool allows you to manage and organize your accounts by grouping them together into Profiles and naming them to reflect your organizational structure.
For example, your Parks and Recreation Department can have its own Profile, which will include its Facebook, Twitter, Instagram, and Nextdoor accounts.
Each profile has three different permission levels indicating who can publish posts. The profile's Admin/s can assign and manage these permissions and control who can create content and publish. This article will explain the three permission levels and the approval flow process.
Admin
The Admin permission level is the highest in the publishing tool (formerly called Owner). This permission level allows the user to control all aspects of the profile: Approve posts sent for review, create and publish new posts, set permission levels for other users, or delete the profile altogether.
Composer
The Composer permission level is the second-highest in the publishing tool. This permission level allows the user to compose drafts and schedule posts, but these posts will require Admin approval before publishing.
Viewer
The Viewer permission level is the lowest in the publishing tool. This permission level allows the user to view posts in the calendar, but they cannot create, edit, or publish posts.
Assigning permissions
Once a user creates a new profile, they are automatically defined as the profile admin. The default settings will also automatically define all other Zencity users as viewers for that profile.
If you are an admin on a profile and wish to edit these settings, you can click on the user management icon. Remember, only admins of this profile will be able to change settings.
To set specific settings for a user, simply start typing their name and select it. Once selected, you can edit the user's settings by choosing the required permission. Any user which has not been granted specific permissions will be assigned the default permissions.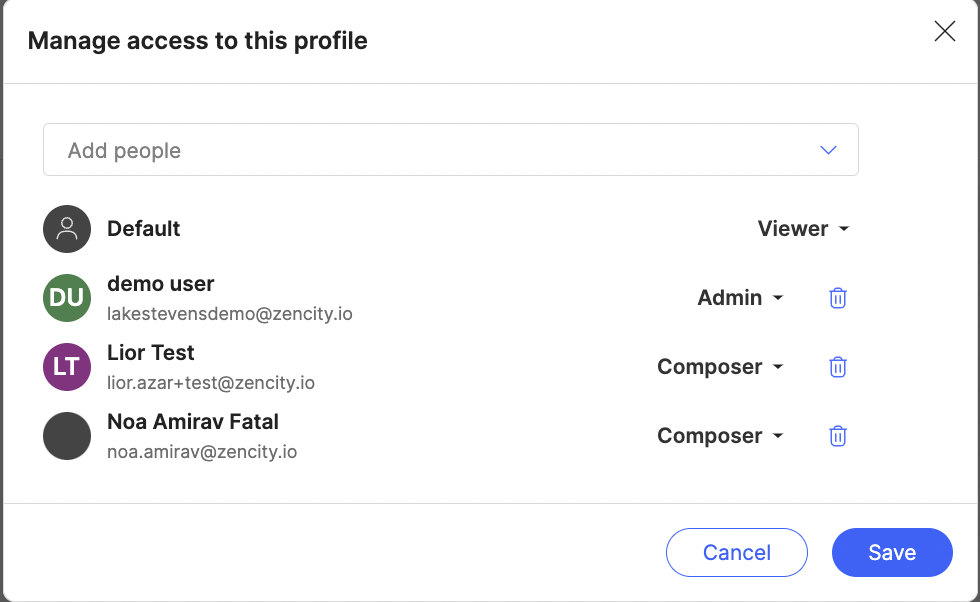 Understanding approval flows
It is common practice for many organizations to decide that some users require approval before publishing public content. When assigning Composer permissions to a specific user on a Profile, that user will automatically be required to send the post to review before they can publish it
The post will be sent for review to all users who are defined as Admins for each of the accounts to edit the post and/or approve it. A daily email to each Admin will include all of the posts pending approval. If there are multiple admins for that Profile, any one of them is able to approve the post.


Pro Tip: Drafts can also be sent for approval. Once approved, they will be locked and ready for publishing.
Managing a post in the review process
A post sent for approval can be accessed and managed through the Drafts & Scheduled Tab. Each draft or scheduled post has a label indicating its status in the approval flow - in review or approved.
Posts without a label have either not yet started an approval process or do not require approval since an Admin created them.
To review a post that requires their approval, an Admin should click on the 3-dot menu on the post, and choose "review." Non-admins will see an "edit" option instead of a "review" option.
Editing will be available until the post has been approved. Once approved, the post will be locked for editing by non-admins, but they will be able to schedule it or publish it immediately.
Advanced approval options
It is highly recommended to set the same permissions for each user across all profiles. With that, sometimes it is necessary to set different permissions for different users on each profile.
If your profiles are set up this way (with different user permissions for different profiles) , Admins can create a post for their own accounts and add accounts requiring up to one more approval by a different Admin. Once the post is approved, the author will not be able to edit the post.