The Organic dashboard is where you can view data from all of your connected sources- social media, city hotline, news articles, and google reviews. Some sources are limited based on your Zencity subscription- reach out to your Customer Success Manager for more information.
You can view and manage your data sources in the Data Sources screen. In the left-hand navigation bar, click on your avatar, and then choose "Data Sources."
You can add public Facebook pages and Twitter accounts, as well as Instagram accounts that your organization manages. You can also add Nextdoor agency accounts by connecting your Nextdoor accounts to the publishing tool, which will automatically create a source in your Organic dashboard.
For other types of data source connections, including Google Reviews and LinkedIn, please reach out to the Support team.
Adding a new source
To start adding sources, click on the Blue "Add Source" button at the top of the "Data Sources" screen.
Please note that any new source added will show as pending while it is being processed. Once activated the source will be labeled as "enabled" and will pull data going forward.
Adding official sources
To add a source your organization owns and manages, select "Official." You can learn more about how we use this label here.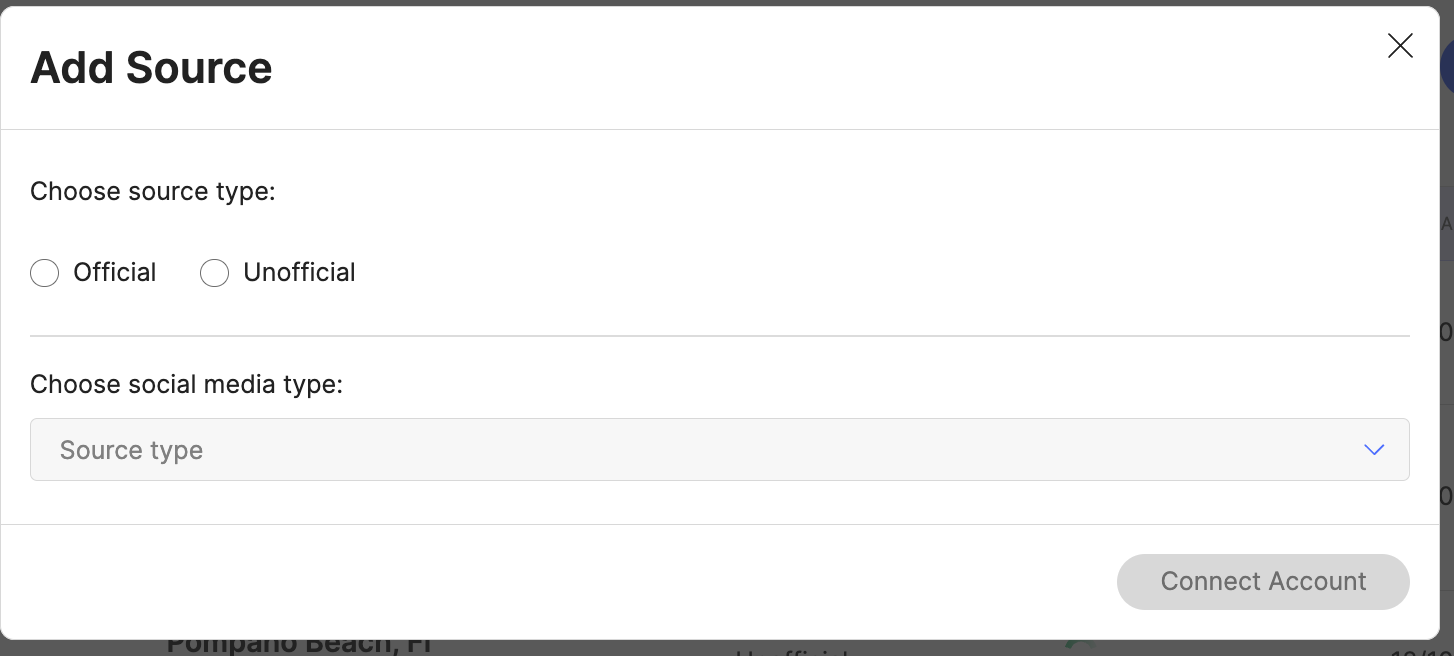 Next, choose the social media type for the source you intend to add.
Facebook

When choosing Facebook, copy and paste the URL of the page you wish to add. After recognizing your Facebook page, you'll be able to add your Facebook Ad Account ID, if you wish to collect paid and promoted posts. Then, click "Connect Account."

Twitter
Choose Twitter, and type in the Twitter handle (username). Do NOT paste the account's full URL. Then, click "Connect Account."
Instagram
As a prerequisite to connect Instagram to the platform, your Instagram account has to be set as a business account, and linked to a Facebook page you have connected to the platform. Check out this help article for more information.
After choosing Instagram, click "Next."
A pop-up window or tab will open for you to log in to Facebook and grant permissions. Notice that your browser might already recognize a previous account you've logged into. You can change the account by clicking on "

Log into another account.

"
In the next step, you will grant access to your Facebook pages and Instagram accounts. If you manage several pages and Instagram accounts, click on "Edit settings" to make sure you grant access to the relevant pages.
For any Instagram account you choose, make sure you have also granted permissions for the Facebook page it is linked with.
Click 'Done' on the list of permissions that appears next (for a more detailed explanation of how we use these permissions, see the FAQ in this help article)
Press 'OK' on the next screen to complete the connection.
Adding unofficial sources
Facebook and Twitter
Zencity can collect data from any public Facebook page or Twitter handle, even if it is not managed by your organization. These sources are labeled "Unofficial" sources.
Adding these sources is very similar to adding official sources, except you are encouraged to add a filter to ensure you only collect relevant data.

Facebook pages with "profile.php?id=" in their URL
Facebook pages that have "profile.php?id=" in their URL can be added to the platform by our team. If you receive an error message when trying to add a Facebook page, and you notice that it has this series of characters in the URL, please send the URL to us through a support ticket and we will have the source added for you.
Facebook groups, Reddit and Google Reviews
In some cases, Facebook Groups, Reddit threads and Google Reviews can be added to your dashboard by our support team. Please note that collecting data from Facebook Groups requires admin permissions. Check out this help article for more information.
Unsupported Facebook sources
We can import data from any publicly available Facebook page. The following types of Facebook sources are not supported:
"Pages" and "Places" type of pages - these pages are automatically generated by Facebook and are not owned by anyone. They can be identified by their unique URL that contains the word "pages" or "places" and the feed of the page has the title "Posts about..." (www.facebook.com/pages/... or www.facebook.com/places/...)
Here's an example:

Facebook Events
Personal Profiles
Data Sources Management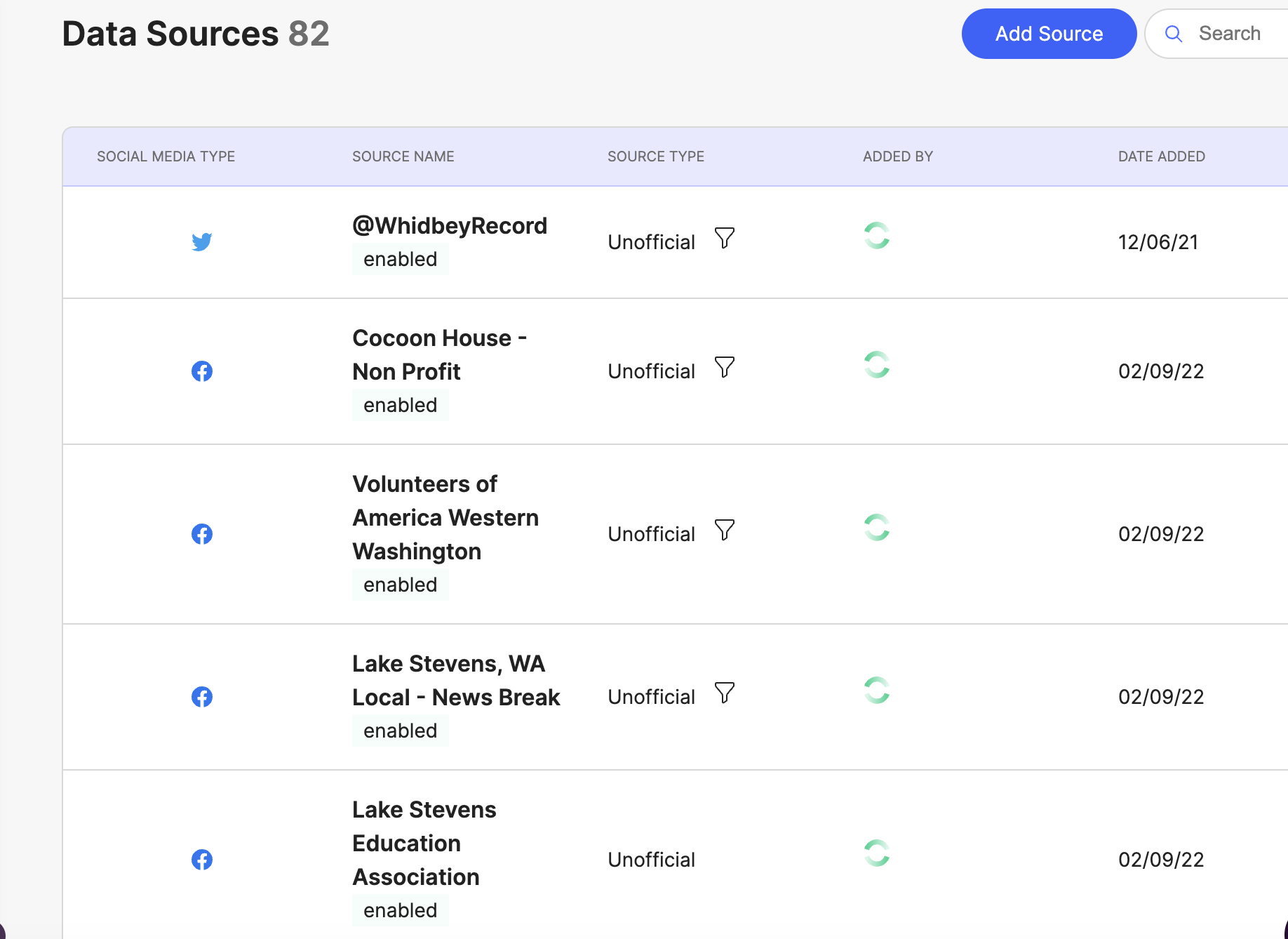 System sources
Our team will create the initial setup of your dashboard, which may include a limited amount of sources, depending on your plan. You will see a list of sources with a Zencity icon in the "Added by" column. Users cannot edit these sources, but feel free to reach out for support if you would like us to change the settings on any of them.
Source type and filters
Since unofficial sources will naturally have a wide range of conversation topics, they are sometimes filtered so that we only pull relevant data from them.
Hover over the filter icon to view a list of keywords used to filter data from that source. For example, we often filter the data we import to only include mentions of the City or the Mayor's name. For more instructions on data source filters, see this Help Center article.
Managing a source
You can manage any source that has an "Edit Source" button. When you click this button, you may either change the source filters (for unofficial sources), activate, or deactivate a source.
Note that any change made to a source will only apply going forward.