Zencity's community survey reimagines the traditional process to help you reach more voices, draw meaningful takeaways from free text responses, and act swiftly on feedback while it's still relevant. Continue reading for an overview of the process from start to finish, the technology that powers our survey, and how you can use the data breakdowns you'll find waiting in your survey dashboard to inform your decisions and benchmarking.
Process overview | Survey technology | Questionnaire | Survey dashboard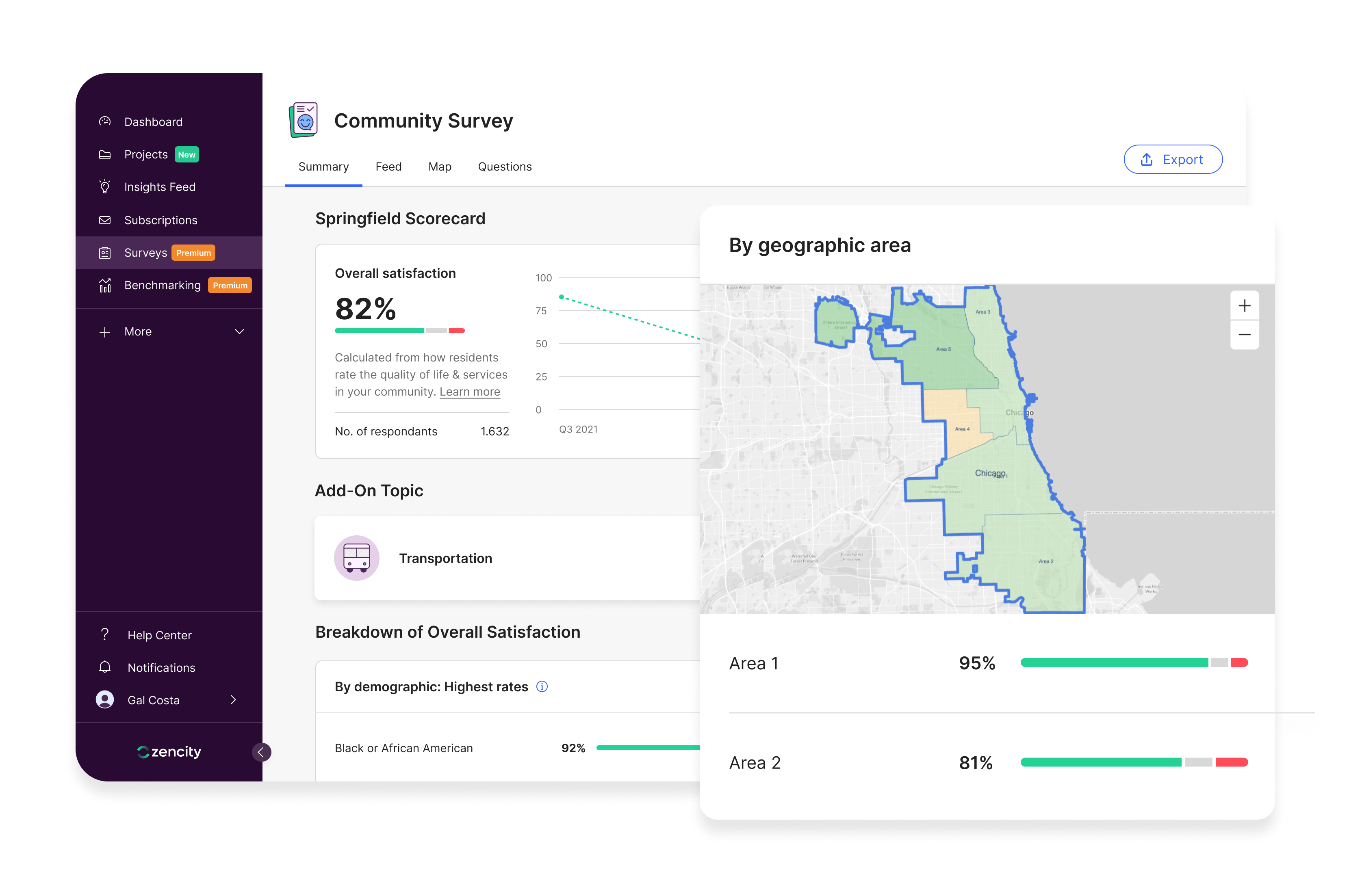 Survey process overview
Zencity's community survey is an ongoing survey intended for local governments to measure resident satisfaction—with the community and with local government-provided services—over time and against a cohort of similar communities.
Note: Looking for another type of survey? For topic-specific issues (e.g. to gauge resident sentiment about an upcoming initiative, resolution or event), consider an ad-hoc survey. Law enforcement agencies interested in a recurring survey tailored to their departmental needs can read about our Blockwise solution.
When you run a community survey with Zencity, here's the process you can expect:
Approve the questionnaire, crafted by a team of Zencity experts and customized to your community

Select any add-on topics you'd like to include, such as questions focused on waste and recycling services or parks and recreation amenities

Zencity digitally distributes the questionnaire to your residents, using census data to reach a representative sample of your community

Responses to open questions are immediately classified and displayed in the Feed tab of your survey dashboard

Once a month, a Live Feed Roundup report is delivered with an analysis of responses to open questions over a 60-day timeframe. The report highlights common themes in residents' feedback.

Ratings to closed questions are regularly aggregated into an overall satisfaction score, found in the Summary tab of your survey dashboard (alongside satisfaction scores generated for any add-on topics you selected)

Findings are presented in a report, with options available to request personalized insights or in-person executive briefings

And the cycle repeats, with the possibility of changing your add-on topic to further explore trends that surfaced in your results, free text responses or organic discourse
Zencity's survey technology
Following our merger with Elucd, we built upon their cutting-edge technology to introduce a community survey that stands out for its:
Continuous data collection: We distribute your survey throughout the year to reach a large sample size and place the most current feedback in your hands.

Cross-platform digital distribution: We deliver the survey via ads, reaching residents on the devices and platforms where they already are. Learn more about our distribution methodology here.

Free-text analysis and classification: Our algorithms process large swaths of free text data, clustering responses by topic and sentiment to make it easier to draw conclusions.

Organic discourse cross-referencing: Give context to your results with insights from the organic discourse in your community and identify new focus areas as conversations develop.
The questionnaire
Zencity's community survey is designed by a team of experts to center user-friendly design and language. With eighteen "base" questions focused on quality of life and resident satisfaction, and seven questions about demographics, the short questionnaire is able to capture sentiment on wide-ranging topics while removing the time barriers that traditional lengthy surveys can impose.
You can select an add-on section to include with your questionnaire in order to gather performance data on a particular department or set of services.
The survey dashboard
Your dashboard is broken down into four tabs: Summary, Feed, Map and Questions. Each one is explained below:
Summary
This tab is your base for referencing your overall satisfaction score, as well as breakdowns of the data across various demographics. Hover over any satisfaction percentage you see on the page for a full display of the number of respondents factored into the score, broken down by the number who gave a positive, neutral or negative rating.

Scorecard
At the top of the page is your scorecard. There, you'll see:
Your overall satisfaction score: This number is the percentage of residents who gave an overall positive rating. It's found by averaging how each resident rated quality of life and community characteristics on a 1-5 scale; averages of 3.6 are considered positive. You'll see this score update at the end of every survey cycle (either quarterly or biannually).

Total number of respondents

Your performance over time: Once the survey has been running for an adequate amount of time in your area, you'll start seeing your score tracked over time in the graph, as well as indicators of how your score is performing over time and as compared to a cohort of similar communities.
Organic discourse preview
To the right of your scorecard, get a glimpse of the volume of the organic discourse happening in your area. Reference your main dashboard to add details to the picture painted by your results. For example, if you receive a notable rating about the quality of parks in your community, you might be interested in searching your organic discourse using that keyword or visiting a related project (or start following the subject more closely by creating your own project).

Add-on section
If you selected an add-on section, you'll see it listed below your scorecard. The satisfaction score for this section is calculated separately from your overall satisfaction score. Each survey cycle, you can choose to continue collecting feedback on this section, or select a new area of focus.

Satisfaction breakdown
Explore your results by demographics, location, and question:
Demographics: Categories that can appear here are race, gender, household income and age. For a closer understanding of how we build a representative picture of your community and weight the data, read about our methodology here.

Location: Areas are according to the breakdowns you determine during the survey setup process. To interact with the map, click on "Explore in full size."

Question: This section displays the most notable positive and negative ratings. Click on "View all questions" to navigate to the Questions tab and see satisfaction percentages for each survey question.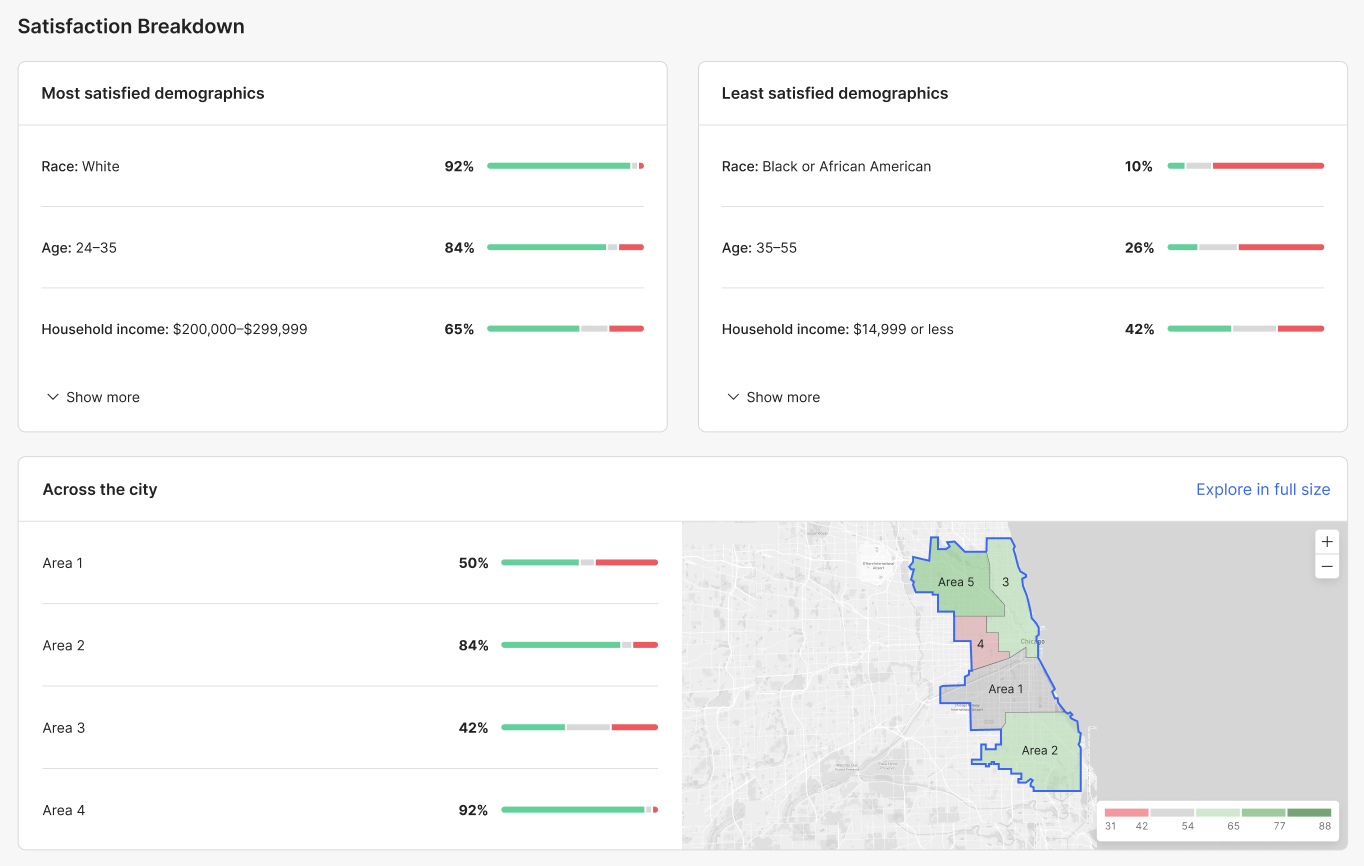 Next steps
Turn your results into action with any of the options at the bottom of your dashboard. Request an insight from our team of expert analysts, request to add a new add-on topic to your next survey cycle or visit your organic discourse for more context.

Feed
Your feed displays resident free-text responses to open-ended survey questions (e.g. "What is your favorite thing about living in Springfield?"). Unlike the summary, which is updated once a survey cycle, the feed displays responses as they are submitted, so you always have a running stream of resident feedback to check and reference.
Each response has been processed and labeled by topic and demographic characteristics, helping you quickly gather information as you scan the responses.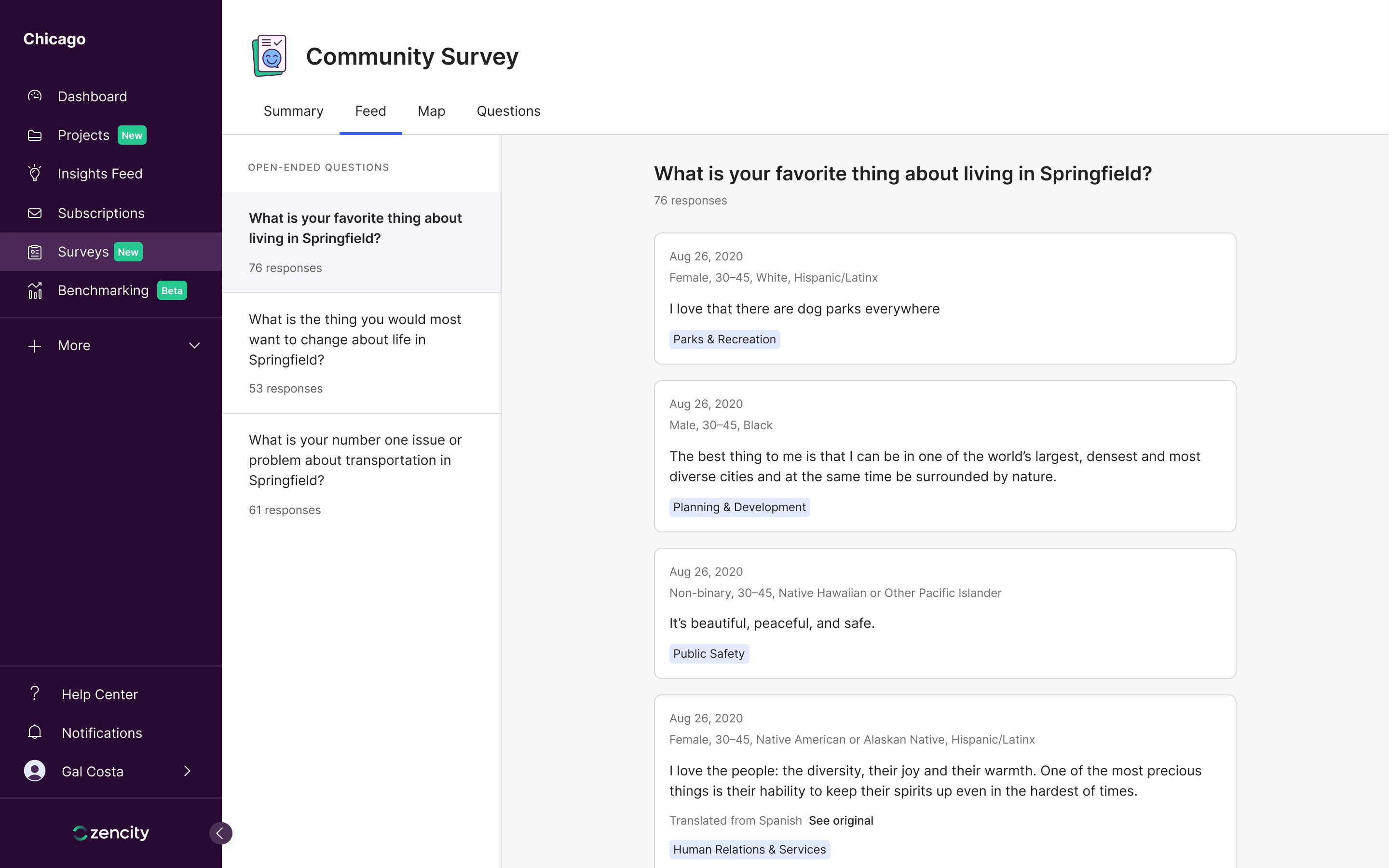 Map
This tab displays an expanded and interactive view of the map widget in the Summary tab.
Questions
This tab lists all survey questions by section, letting you see the exact number of respondents and satisfaction percentages for each.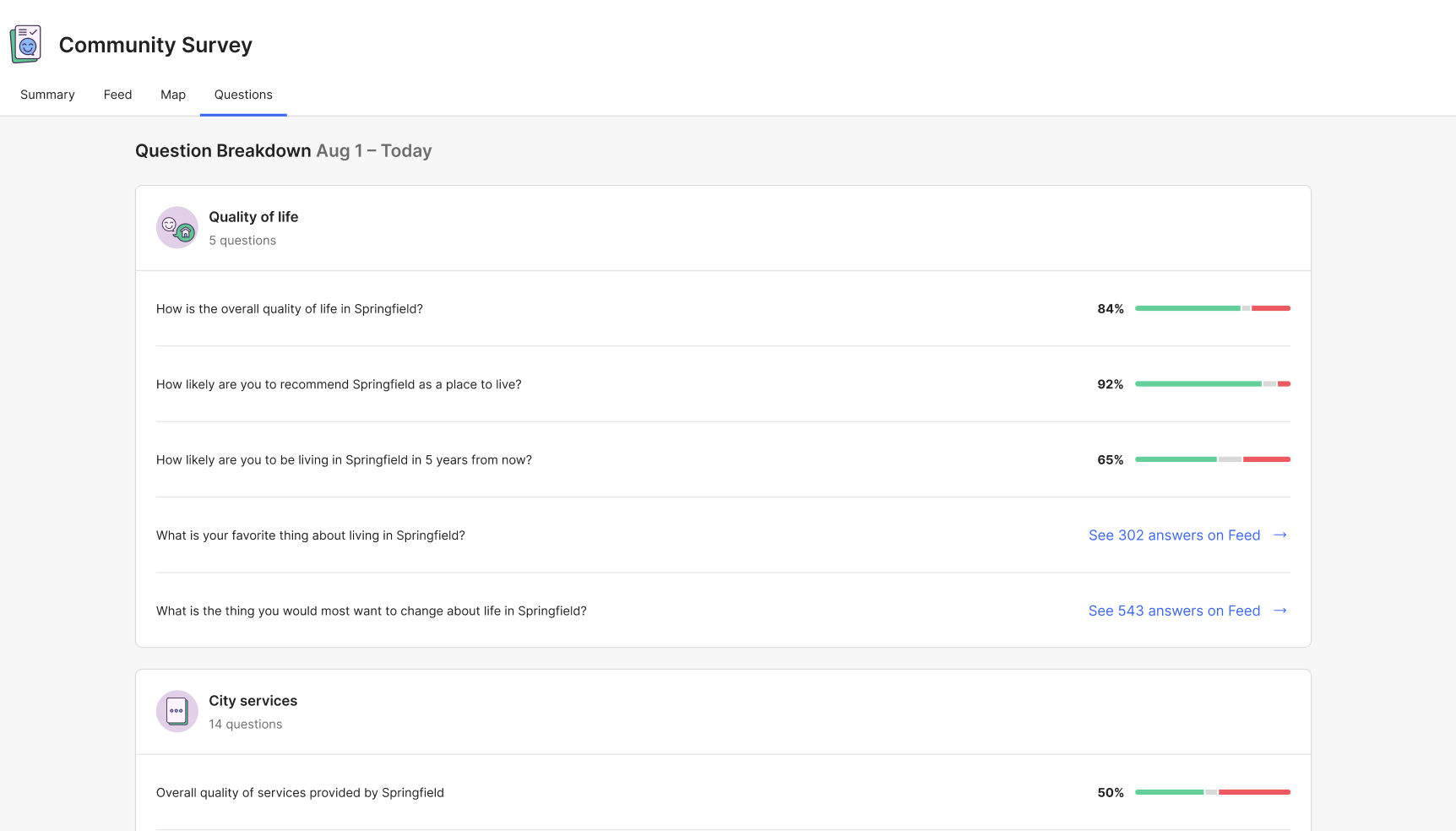 Questions?
For questions that arise as you use your dashboard, or about the survey materials or methodology, please contact your dedicated Customer Success Manager or send us a message below.