Between the data updating all of the time and limited hours in the day, it's not always easy to keep track of all of the projects that are important to you. With the new custom project digest, though, you can opt to get regular summaries of the biggest trends and highlights in any of your projects—sent right to your inbox. It gives you maximum flexibility, so you can create the digest that fits the way you like to be notified and how you like to work.

What's inside every custom project digest
Inside every email, you can expect to find the following sections you've gotten to know from your dashboard, all filtered to focus on the project you selected:
An overview of the conversation size and sentiment

Themes in the conversation, including trending topics and a word cloud

The most popular posts from your official and unofficial channels
Any time something catches your eye or you want to take a closer look at the date, your dashboard—and the wider context—is only one click away.
How you can use the custom project digest
With total control over the digest audience and frequency, you can use the custom project digest to support your work in many different ways. Here are just a few ideas:
Getting updates on the go: Choose to get a daily, weekly or monthly summary sent to you at the time of day you want. Schedule it to coincide with when you get into the office or before a regular team meeting, so you can quickly survey all of the important trends and takeaways beforehand.

Subscribing colleagues for intra- or cross-departmental initiatives: Make sure you and your colleagues are on the same page and are following the same numbers. You can customize the audience of your digest to include any colleagues you want.

Setting up a digest for a time-sensitive project: Let's say you're following a project about July 4th fireworks, for example. In the weeks leading up to this date, you can set up a digest so you can catch every development in the conversation and alter your messaging as needed. After the holiday, you can always unsubscribe if you'd like.
Found another way to use the custom project digest? We'd love to hear about it! You can always send your Customer Success Manager a message or chat us below.
How to set up a custom project digest
In the left hand navigation menu of your dashboard, go to Subscriptions

Under the Email Digests section, you'll see an box titled "Custom project digest"

Click "Create Digest"

Choose the project you want to follow

Subscribe colleagues if you want (you are already automatically included)

Choose when you want to receive the digest

Hit "Create" and look out for your first digest!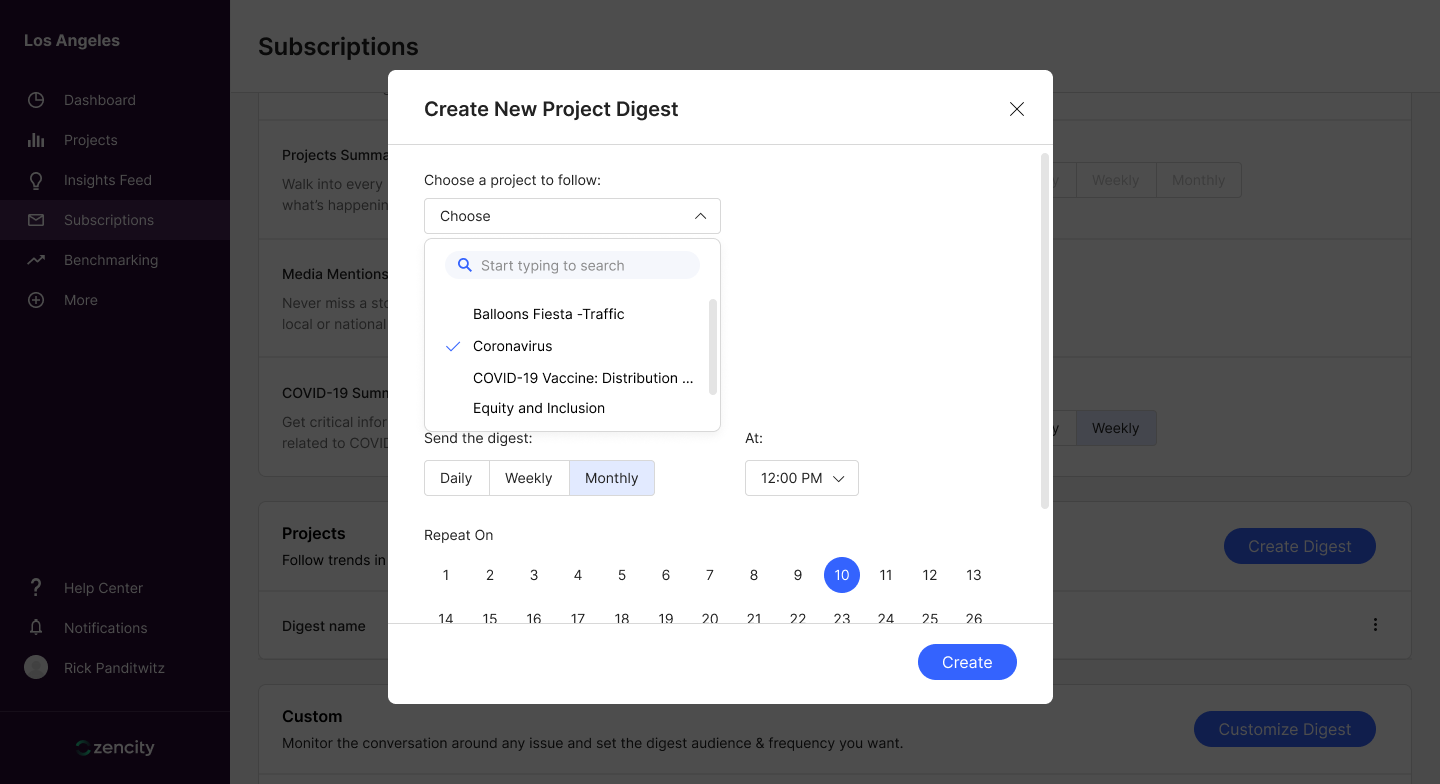 Your new digest will now start appearing in that section of the Subscriptions page. To edit your digest at any time, head back there and click on the 3 dots on the right hand side.